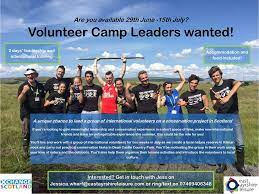 Xchange Scotland is a youth-led charity developed by returned Scottish volunteers and others committed to making positive change in society. For the past 5 years, our founding members have been deeply involved in international volunteering and education projects - see below. Our aim is to connect individuals and organisations in Scotland to these exciting and accessible international opportunities. We want to bring as many people to Scotland for international volunteer projects and enable as many Scots to volunteer abroad as possible.
Xchange Scotland:
Sends volunteers from Scotland on exciting and engaging international projects around the world, set up by local partner organisations - short term (2-4 weeks) and long-term (2-12 months). Go to our Volunteer Abroad page.

Enables Scottish organisations and groups to benefit from volunteers from overseas coming in to help with their work. Go to our Projects in Scotland page.

Delivers global education workshops and activities with organisations, schools and youth groups. Go to our Global Education page.
Xchange Scotland does not set up projects overseas. We are part of international networks - and - that have a history going back over 60 years. Each organisation within this global network send volunteers to other countries and host projects in their own countries. As a result, the projects our volunteers participate in are led by the local community and sustainably ran. This way of working also means that our volunteers never shoulder the high costs it takes for an organisation to set up and run a project in another country.
Xchange Scotland also make use of the . This, effectively, is Europe's youth programme. It supports a range of actions, including Youth Exchanges, European Voluntary Service and Training Opportunities. It is a fantastic way of enabling young people from all backgrounds to engage in international and intercultural opportunities.
Crucially, Xchange Scotland is a voluntary organisation rather than a business. Whereas businesses are run by shareholders for profit, Xchange Scotland is run by an Executive Committee of volunteers working to achieve our goals.
Intercultural Exchange and International Understanding

Xchange Scotland aims to promote intercultural understanding and co-operation through international volunteering and exchanges. We are part of an expanding network of organisations and individuals throughout the world who are united by this goal.

Development of Young People

Our focus is fostering the personal development of young people from a diverse range of backgrounds. Whether it is the international volunteers we are hosting in Scotland or the young Scots we are sending to projects around the world, Xchange Scotland aims to equip individuals and organisations with the understanding, skills and access to information, knowledge and training that enables them to expand their horizons and achieve more.

Capacity Building

Alongside expanding the horizons of young people, Xchange Scotland aims to open up a whole range of exciting opportunities to Scottish organisations and local community groups - rural and urban. Through successful partnerships everyone achieves more.

Sustainable Projects

Every Xchange Scotland volunteer always works in partnership with established locally-based partner organisations. We support the development of new and innovative ideas through well-established methods. We aim to build up long-term partnerships with organisations and individuals, developing our projects in-line with existing efforts to bring lasting positive change